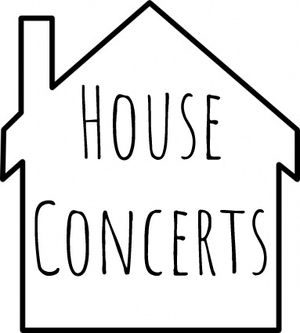 WHAT IS A HOUSE CONCERT?
A house concert is just that, a concert in your home: a get-together of friends, invited by you. The performance can be in your living room, garden or on your deck with live music, and often food, drinks, and conversation. Personally I often prefer these evenings over public concerts because they are cozy, intimate, and allow me a chance to really get to know the audience and make new friends! 
Here are the most Frequently Asked Questions Regarding House Concerts:
I Don't Have A Big House. Can I Still Host A Concert?
Yes! The cozier the better. You don't need a gigantic living room or a palatial estate. 
How Many People Are You Expecting? 
I Don't Think I Can Get 50 People To Come To My House.
I've done house shows with as few as 20 people, and as many as 80. The beauty of a house concert is that it is purposely more intimate and focuses on quality over quantity. Traditional venues rely on numbers, making public shows more about quantity than quality.
Does It Cost Money To Host A House Concert?
Yes and no. There is no outright cost to host a concert, but as an artist I request that hosts ask their guests to come expecting to give a donation. At the end of the performance the host will ask the guests for donations to support the artist. The donation amount is open.
Can I Book You For My House Concert?
If you're interested in hosting a house concert, chances are you've been to at least 1 or 2 shows. Which means you've probably seen me perform. With a house concert I want the vibe to be different - more intimate unaffected by the filter of major amplification and auxiliary sounds. House concerts are a stripped down way for me to connect with my audience - something I can't do as well in larger venues or concert stages. For that reason, I do house concerts solo with my instruments and a small sound system.
How Do I Plan A House Concert?
The beauty in house concerts is that they are low stress.  Once we agree on a date, we can talk about a start time. Then you can setup a Facebook invite and/or shoot out emails to your network of friends to let them know about it. Encourage them to bring a dish and it becomes a potluck (awesome)!  Whatever happens, don't stress! It's just like hanging out with your friends! 
I Really Don't Want A Bunch Of Strangers In My House.
This is usually a homeowner's primary concern. They're interested in hosting something but don't want it to be listed as a public event. No problem.  Simply keep the Facebook invite private or limit the Evite to your network. I'll stick a generic "Private Event" listing on my calendar page for your specific date. 
What Exactly Is The Order Of Events For The Evening?
The order is pretty laid back. It's usually great to give folks 1 hour to arrive, get comfortable, and chat it up before getting into music. Music can go for as little as 1 hour or as long as 2. Sometimes, depending on how long the music is planned to go, there is a break in the middle to allow people to stretch their legs, get more food, and talk. 
What Are Your Personal Expectations, Stan?
I enjoy the storytelling aspect of live music. I think the most enjoyable and memorable house concerts occur when a house becomes a listening room. As a performer who has played in nearly every type of setting, my least enjoyable experiences involve playing in a noisy room where there is no connection to the audience and the music plays a backseat role. I usually call this "background" music. There is nothing wrong with live music that exists to set a mood for an event, but that is not what a House Concert is. If that's what are looking for, you may want to book me for a House Party instead.
Ok, I Think I Can Do This!! What's Next?
Great! Send an email to: stanjgregory@gmail.com. Ask me whatever additional questions you have or let me know if you are looking to book a specific date. Let's do it!